There are a variety of different types of websites out there, each serving a different purpose. By showcasing your work on a personal website, you can demonstrate your skills and talents to potential employers in a way that is far more impactful than a resume or cover letter.
Another popular type of website that creators use is a bio link which is a digital business card that people can click on to visit your online assets, campaigns, or social media. Meanwhile, portfolio websites are often used by designers and artists to display their work and attract potential clients. And of course, there are blogs that are a great way for individuals and businesses to share their thoughts and experiences with the world.
Ultimately, the type of website that you choose should depend on your specific needs and goals. However, it's good to keep in mind that the future is always changing, so who knows what you may need your website for down the road! This is why at Pineapple our goal is flexibility so that your site adjusts to whatever stage your business or personal brand is.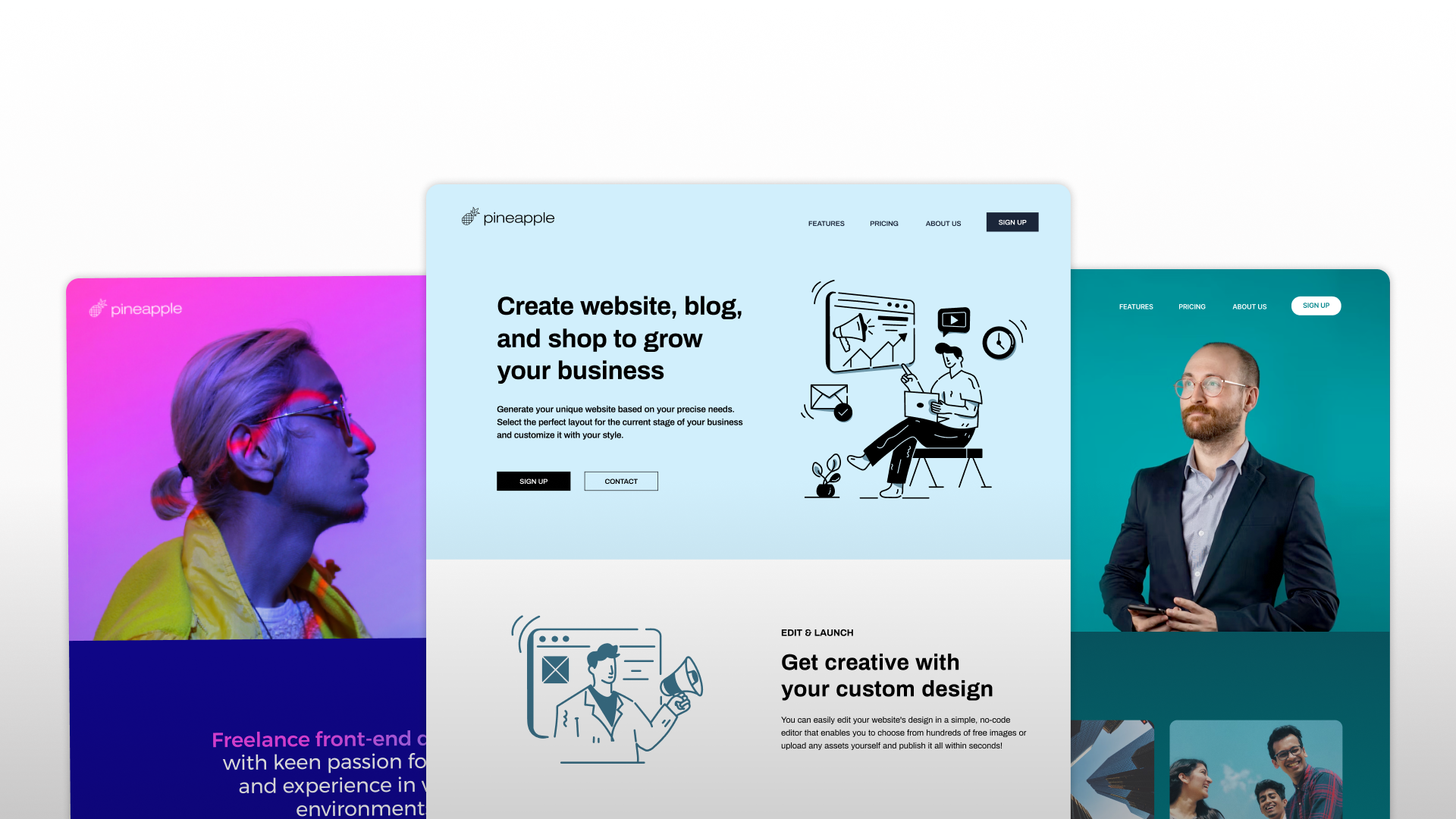 Sample Freelance and Personal templates from Pineapple Builder generator.

Let's explore popular types of websites that creators and small businesses use, along with best practices for designing them to get you started:
1. Bio link
Let's start with the simplest of them all - a bio link. You've probably seen it many times browsing Instagram or TikTok. A bio link is a clickable URL that you paste into your profile's bio and it drives your audiences to visit your site from the social media platform.
It usually looks like a digital business card with a list of buttons that redirect your visitors to your page, shop, online booking system, or other social media. In other words, it links all of your different digital spaces together in one spot.

There are a lot of great apps that allow you to create a bio link in minutes. However, one important thing to remember is that, if you use an external service you are driving your users to another domain and you lose a chance to gain traffic and boost your off-page SEO. And if the person opens your bio link in an outside app and doesn't click through, you are missing out on that information.

Creating your own bio link-type landing page gives you 100% control over the design and branding that matches the rest of your website. It gives you greater control over your user's experience and lets you track the data related to what your visitors click and what services they came from.
2. Personal website
In today's digital world, personal branding has become an important aspect of professional success.
A personal brand is a way you package and present yourself to the world, and a personal website is one of the best ways to build a personal brand.
You can use your personal website to:
Create an online resume

Sell your services

Share your thoughts and ideas
2.1 Create an online resume
If you're job hunting, you might not think that your online presence is all that important. After all, what does your online activity have to do with your ability to do the job? As it turns out, quite a lot. A recent survey of recruiters found that 80% of them say a personal website is important when evaluating job candidates. In other words, if you don't have a personal website, you could be at a disadvantage when competing against other candidates who do.
So what should you include on your personal website? Think of it as an online resume. You want to highlight your skills and experience, as well as anything else that makes you stand out from the crowd. And since you control the content, you can ensure that the story you are telling is the one you want potential employers to hear.
So if you're looking for an edge in the job market, creating a personal website is a great place to start.

2.2 Sell your services through a personal website
If you plan to sell services through your website, it's a good idea to set up a landing page that invites users to use your service packages.
A landing page is a specific type of web page that's designed to promote a certain product or service. It usually has a clear Call To Action, such as "Sign up" or "Buy now." By setting up a landing page, you can make it easy for potential customers to find out more about your service and take the next step. Plus, a landing page can help you track how effective your marketing campaigns are.
So if you're looking to sell services online, setting up a landing page is a smart move, and if you'd like to learn more about building them check out this article on how to structure the landing page.
2.3 Share your thoughts in a blog
Whether your website is about providing services or presenting professional background, adding a blog could be the perfect way to organize all of that additional information that doesn't fit into your website structure. It can also help to present you as an expert in your area.

Blogging is a great way to connect with your audience and build up new relationships. Additionally, it gives some side benefits such as organic traffic from search engines and promotional content that you can use on your social media as well as generate recognition among people who may not otherwise have heard about you.

If you're not sure where to start, we've got everything you need here at Pineapple Builder. Check how easy it is to set up a blog on your page. And if you're worried about maintaining a blog, don't be - there are plenty of resources available to help you keep your blog updated and interesting.



Tips on building a personal website:
The structure of your personal website will depend on your individual goal, so before you start try to answer these questions that will serve as a guideline for creating your website:
What will the website help me accomplish?

Who am I trying to communicate with? (future employees, clients of my services)

How do I want to be perceived by them?

What are the things that distinguish me from the others?
Those answers will set a foundation for building your personal brand.
Next, you'll want to create a recognizable look and feel for your website, so every part of it, from call-to-action buttons and footer, should be cohesive in terms of style. You can also translate this style to all the digital assets, social media, and newsletters, you will use to communicate with your audience. To define your style consider:
Color palette
Mood and tone are greatly impacted by colors. To find the right combination for you, look into color psychology. If you're looking for dynamic energy - try out a vibrant selection of hues. If calm sophistication is more your speed, then go with light pastels or soft shades. You can try the selection of designer compositions offered in Pineapple Builder or compose your palette.

Font choice

Similarily to colors, fonts set the mood of your brand. The right typeface could make all the difference in how customers perceive you. Try to match the fonts with how you want to be perceived and who your customers are. For example, if you are a lawyer you would probably want to choose traditional, serif fonts, that are associated with trust and stability, whereas if you are a designer, you would prefer something more creative and imaginative.

Use of images

Images are the most powerful way to communicate with your website visitors. One image can speak a thousand words and we're visual creatures, so images should be an important component of your site design! Try choosing some great images from 10,000s free images available in Pineapple from the great Unsplash library or upload your own.

Logo (or No Logo?)

Logo is an important part of any branding, however as controversial as it may seem, we advise you not to start building your personal brand with the logo. The visual aspects should complement what's being said or communicated and often too much focus on the design of the brand takes away the attention from what is really important - the content. In this case, it is you, your knowledge, and your expertise.
Of course, along the process of establishing your brand, you should consider designing a logo that is a cherry on top of good branding.

3. Portfolio website
Designers and professionals of all kinds can use portfolio websites as a way to showcase their work. These sites allow freelancers to expose specific skills and services they offer.
Portfolio websites are great for displaying your work in various ways. You can use galleries, slideshows or animations, and videos if you want to show off different aspects of what you've done. There are a few things to consider while constructing a portfolio website.


Tips on building a great portfolio:
Selection of projects

Here, similarly to the personal website, think what is the purpose of setting up the portfolio. If you are looking to find more clients in a specific area of try to put together a portfolio that reflects that. Remember that clients are looking for familiar things and they will hire you for what you have in the portfolio. Even if this means that you are not showing your best projects, or the ones you are the proudest of. We know it is a tough choice, but it is effective.

Less is more

We know you want to show all you have done, but unfortunately, people will probably just glance through the first few projects that you feature. So make sure you don't overload your portfolio with unnecessary projects.

Categorize

Split up the project into categories to make it easier for people to browse through them.

Tell a story

Of course, the outcomes are the most impressive and you want to show off the amazing results of your hard work, but people often want more about how you got there. Try revealing some details on what process led up to this idea or result — and share any stories along those lines. Show how did you work with your client, the initial ideas, Pinterest boards, ect.

Show your method

Explain to your clients how you work, the details of the process, and what they can expect from the collaboration. Maybe you have a client onboarding process or a set of specific tools that you use? Having a defined process will definitely present you as trustworthy and professional and make your clients more confident.

Show off your skills and tools

If it is relevant talk about the tools and software you used while creating the work.


Testimonials

There is nothing better than a happy client's recommendation. We tend to trust more in services that are vouched for by others.
Take away
Whether you are building a simple bio link, personal website, or portfolio, the general principle is the same - think about your audience and your goal for the website. Identity who would you be talking to and what is their reason to visit your website. Equally, think about what would you like to achieve from their visit. Then organize the content to present yourself or your work in a way that will serve this goal. And remember your content should be the star of your brand, not a logo or color scheme. The styling of your website should always support the information, making it easier to understand or clearer for visitors.